Winterwhisper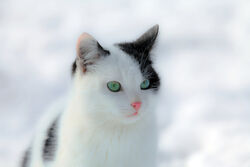 | | | |
| --- | --- | --- |
| | Other Names | Winter, Win, Wint |
| | | |
| --- | --- | --- |
| | Affiliation | BlogClan, BlogClan 2 Wikia, Warriors Wiki |
Biographical information
Apprentice

Currently: Bluebellpaw

Formerly: Willowpaw (Willowrain), Lupinepaw (Lupinetail)
Rank

Currently: Senior Warrior

Formerly: Warrior, Medicine Cat Apprentice, Apprentice
| | | |
| --- | --- | --- |
| | Fur Color | White-and-Black |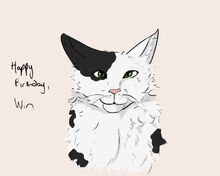 Appearance
Edit Winterwhisper is a fluffy white tom with black blotches, a black tail, and a black face spot covering one eye and ear. He has big, dark green eyes, a long tail and large feet.
Personality
Edit
Winterwhisper has a surprising similarity to Winter from a Wings of Fire, and Jayfeather from Warriors. At least he used to. He now is a lot calmer, kinder, and patient. He still has his harsh or sassy moments, but he has matured lots over time. He used to be very loud and obnoxious and over-the-top, though.
He doesn't usually go on big rants, but can if he is well known with the topic. He has strong support for LGBTQ+ community, and supports equality for everyone. He is an indecisive person, constantly unable to determine his favorite out of a long list on anything. And if he finally does, it changes two days later.
He really likes knowing what other members of BlogClan think of certain things, and likes to ask them questions. His favorite articles are the ones of people's opinions, such as least favorite/favorite cats, most evil cats, etc. He was a big fan of warriors from the start, enjoys writing fanfiction, and always urges people to read it—he loves reviews and support.
He, Flowerstream and Maplesky are part of a "trio," as they are all close, and a few of his best friends are Sundance, Iceflower, and Fernfall. He can be offensive or unpredictable, and has big reactions to small things.