Snowypaw (Snowystorm)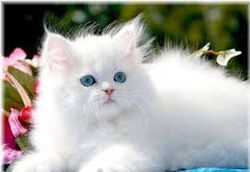 | | | |
| --- | --- | --- |
| | Other Names | Snowy, Snowypaw, Snowystorm |
| | | |
| --- | --- | --- |
| | Relatives | Pawpaw - brother, Healthcat - mum, Silvermane - dad |
| | | |
| --- | --- | --- |
| | Affiliation | Blogclan, Heatherclan |
Biographical information
| | | |
| --- | --- | --- |
| | Mentor | none unless I'm secretly being trained😲 |
| | | |
| --- | --- | --- |
| | Breed | Persian and Fluffy (if fluffy is not a breed... it is now I just created it) |
| | | |
| --- | --- | --- |
| | Fur Color | Fluffy and White |
Snowypaw is an energetic, crazy, stubborn, very persistent cat. Snowy loves making new friends but is only usually accepted by the most welcoming.
Snowypaw is relatively new she joined on the 27th of March 2018 but has been reading Warriors for a lot longer than that. She has no Apprentice or mentor at this moment that she knows of. Snowystorm is officially an apprentice - Snowypaw but is more commonly know as Snowystorm but will be a Warrior next year.
add yourself please I feel so lonely here
Diamondpaw

Rosepaw da Weirdo :D

Spidersong (Spidersong)

Wrenkit/feather

Owlfeather/paw
Snowy has read all Warriors books available

Snowy started reading Warriors in year 1, 2011

She has a cat with the most original name ever - Puss

Snowy has been trying to get her brother pawpaw( I hate his chosen cat name) for years now to read Warriors

She was introduced to it by her friend who came back from a holiday in America with it.

Snowy was born 3rd of August 2004 (so she's currently 14)

none of her family can create good Warrior names

Snowy has introduced many people to warriors but only some have continued reading

she is currently in year 9

in her free time, she spends it reading thinking and watching tv

Snowy has lots of weird ideas and thoughts about life

Always stats facts no one cares about at the most random of times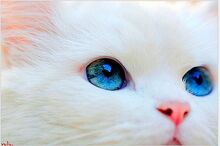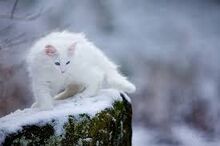 Snowypaw is a pure White Fluffy Persian cat with bright blue eyes a spot on her nose a black tail tip and only minor hearing impairment.
~ Coding by Snowystorm ~
Community content is available under
CC-BY-SA
unless otherwise noted.