Shatteredpaw/mask is a jet-black she-cat with green eyes and white patches on her face that look like shattered ice. She has a thin scar over her right eye, on her left shoulder and has blood on her paws.
Her mentor is Rushfire.
Coding by Ivyne
She is obsessed with Mapleshade.
Her favourite OC is Highbranch (no stealing).
And her favourite MAP is Sol: Everything Moves.
She is filling out all these inbox things because they are so fun to do.
Fan Fictions
Edit
Snowkit's Mistake- on BlogClan 2 wikia, finished
Echo's Darkness- on BlogClan Fan Fiction page and BlogClan 2 wikia, unfinished (at the moment)
Twilightwatcher's Nightmares 1- on BlogClan 2 wikia, finished
The Ones That Got Away - on BlogClan 2 Wiki, unfinished
Cliff's Fantasy- on BlogClan 2 wikia, finished
Speaking With Stars - in progress, on BlogClan 2 wiki
Favourite/least favourite characters
Edit
Favourites
Edit
<text-align><div style="border:black 4px solid;width:200px;height:100px;overflow:scroll;">
MAPLESHADE (most BlogClanners know that by now)
Greypool
Yellowfang
Crookedstar
CATRA
SHADOW WEAVER
HORDAK
ENTRAPTA
MERMISTA
Zira
Reirei (I didn't say they were all from Warriors)
Aja (of House Tarron)
Zadra
</div></text-align>
Least Favourites
Edit
Onestar
Leopardstar
Brokenstar
Tigerstar ll
Dovewing
Needletail
General Morando
ADORA
Favourite Songs
Edit
Walk Without The Stars
I'll Be Complete
On The Blog
Edit
Ttera found BlogClan by randomly finding an article (credit goes to Nightwhisker who wrote the first article I saw, Firestar Is Related To Everyone and that's what got me hooked)
She joined properly on March 1st.
You will find me on the fanfic page, sometimes the Tavern, the games page, and in nine role plays.
I LOVE ROLE PLAYING.
Feel free to add yourself!
Sandy (Sandpaw)
Stormsong
Goldenpaw(Goldenberry <3)
Old Plumeflake's book of Practical Cats
Clockkit/work
Driftingpaw who much much prefers Mungojerrie over Rumpleteazer
Shatteredmask edit: Unimpressed.
Redblaze who also should have found this way before
Moons who doesn't know why everyone is putting this at the end of their name but is rolling with it
Splashfeather/kit
Clooooo your faithful Lion Guard buddy
Turtle who doesn't care what anybody else says, SILVERSTREAM IS GRAYSTRIPE'S TRUE MATE! (Turtlepaw/ dapple)
Ivykit who agrees with Turtle and doesn't like Millie
My favourite Cats characters
Edit
Skimbleshanks
Macvity
Rumpleteazer
Mungojerrie
Tantomile and Coricopat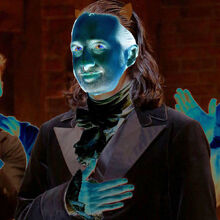 Backstory
Edit
Shatteredkit was bullied by every kit and 'paw in ThunderClan because of her strange appearance. She got really really mad. She was made an apprentic, and her mentor hated her. Her brother, Clawfire, was horrible to her when she got her warrior name. She eventually killed him, and most of her other tormentors. She was slaughtered by her mentor and went to the DF. Shatteredmask became leader of evil and won the second Great Battle.
I'm a Dark Forest warrior
I love the Cats musical
My birthday is October 21
One of my favourite cats is Shattered Ice, which is why my name is Shatteredmask
My favourite cat is Mapleshade, but I also like Shadowstar
I think Tall Shadow is a better name than Shadowstar
My favourite Clans are the DF and BloodClan
My favourite musicals are Thoroughly Modern Millie, The Sound of Music and Cats
My favourite song is Macavity: The Mystery Cat but I also love My Lullaby
I accidentally typed that in third person
I plan on not trying to become a SW
Community content is available under
CC-BY-SA
unless otherwise noted.