Owlnose is a long-furred brown tabby cat with white markings (underbelly, chest, paws & muzzle) and golden eyes.
Personality
[
]
Owlnose is a clever, mature, laid-back, quirky and reserved cat who takes their work seriously, obeys rules without question and
does what they are asked without complaining.
Hoot tries their best to be kind, but they think that they aren't doing good enough. (That's not true! Ruffles is one of the most kindest people I know! <3) (Thanks, whoever said that! <3 - Rufflecloud) They are quite humble and honest to other people though. Their sense of humour is dry, which means that they say something amusing without any emotion.
They likes to think herself as an introvert, but they might be an ambivert. They are mostly quiet and only says something when someone else wants to talk to them or they have something to say. Owlnose is also optimistic and content.
On the Blog
[
]
Brightsky era (2013)
[
]
It is unknown how Brightsky found BlogClan, but she most-likely found it through the Warriors Wiki. She looked around the blog for a while, and decided that she would comment on the New Members' Page. Her first and only comment as Brightsky was on the old blog's first New Members' Page, posted on the 8th of December 2013. Brightsky then explored the old pages of the blog, and found that a member that used to be on the blog was also called Brightsky. Not knowing what to do, she left the Blog without giving a thought about changing her name.
Mapleheart era (2016-2018)
[
]
Two years later, in March 2016, after becoming interested in Warriors again for the second time, Brightsky was reminded of Blogclan's existence when she found out about two characters being named after Blogclanners in Mothflight's Vision and the allegiances for The Apprentice's Quest.
After checking out the changes to the blog and seeing that a new group of members have replaced some of the older ones, she decided to join once again. A new Purrsona was created, combining the appearance of a cat version of herself and a name she got from a name generator elsewhere, thinking that Brightsky wasn't fitting for her anymore. After checking with the search box to see whether there were any other members with the same name as two characters chosen to be possible Purrsona choices, she commented for the second time on Blogclan, and the first time under the name of her new Purrsona: Mapleheart. At first she was hesitant about commenting, thinking about having to follow rules every time and not using any social media, but Mapleheart commented anyway, mentioning in the post that she was afraid of breaking any rules. The replies she got from other members stated that the rules are simple and straight forward, and that as long as she
uses common sense she is okay.  These comments calmed her anxiety.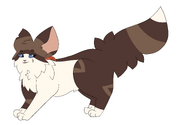 Mapleheart commented on the Blogchat and interacted with these new members that joined after she first commented as Brightsky, and since there were other members with the same Prefix (Maple-), a nickname had to be decided for her. Mapleheart suggested Mapl', with the last vowel omitted from her prefix, but someone else suggested a different one, replacing the l with the first letter of her suffix.
With a new nickname, Maph commented frequently, asking for Art to be made of her Purrsona by other members.
Using the Gravatar account that she made when she was still called Brightsky, Mapleheart commented with a picture of a cat similar to her new Purrsona with a rubber duck on top of his head.
After that period of commenting, she started to stalk the blog more and comment on random occasions; she once stalked the blog for so long that when she commented for the first time in a while the members were surprised and happy to see her.
She took part in gatherings on the blog, choosing one of whatever teams they had at the time, including the Relatively-Excitable Stoats.
In 2017 she only commented when something interesting happened in her life (which is rare) and when there is a discussion about something that she is interested in.
Around this time she decided that she was going to change her Purrsona, even though she had a connection to her current one. She stayed with Mapleheart afterwards.
In November she decided that she was definitely going to change her Purrsona this time, making up some characters named after her characteristics and with her favourite cat breeds.
A poll was posted to decide her new Purrsona, with only three out of the seven choices being actual characters/names. Out of these characters Cloudstep was the most liked, with the second most-popular choice being "Don't change your Purrsona".
Coming up with two new characters, she posted a choice of the characters, including the newest two.
Cloudstep was the most chosen character once again.
After deciding what her new Purrsona would be, she posted a third poll; this time with two more new characters, one eliminated and another one with a new name.
On the 1st of January 2018 her new Purrsona was revealed, based on the tri-coloured Maneki Neko and representing her love of lucky cats: Beckoning Paw.
Beckoning Paw era (2018)
[
]
With yet again a new Purrsona, Beckoning Paw (Nin for short) had a plan to comment and participate more on Blogclan; the results of whether she is sticking to the plan or not can be seen on the pages of the Blog.
After a few days, Nin starts to feel unattached to her Purrsona, and decides to create a new one.
Due to problems with receiving forms, the Allegiances still displayed herself as Beckoning Paw for about five months. Nin still stuck with being Beckoning Paw through all this time, until it changed.
Misty Moors era (2018-2019)
[
]
With a Purrsona she could finally identify with (but not as much as Mapleheart), Misty Moors strolls into Blogclan with her fourth Purrsona in 6 years. (More Info coming soon!)
On the Wikia
[
]
Mapleheart era (2016-2018)
[
]
She first joined the Wiki in June 2016, creating a page for her Purrsona at the time.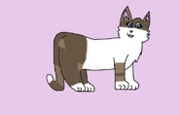 She commented on a few pages but stopped altogether, although she was on the Wikichat until the Blogclan Discord server became popular.
She still commented on the chat whenever it wasn't inactive and took part in Wiki gatherings.

In late 2017, when she decided to change her Purrsona, she frequently discussed her choice of characters to be a possible future Purrsona on the Wikichat, and when she was unsure of which one to pick someone else helped her choose her future Purrrsona.
Beckoning Paw era (2018)
[
]
She didn't visit the Wiki much at this time, due to switching to a new computer.
Misty Moors era (2018 - 2019)
[
]
Misty Moors would frequently visit the Wikichat and talk to people there. (To be updated soon)
Trailing Stars
[
]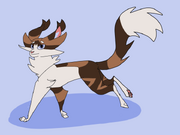 Owlnose appears in the Blogclan story project as Sundrift, one of her older Purrsonas in Chapter Twenty-Four, written by
Cheetahspark
. In the chapter, Sundrift tells her troubled clanmates to calm down and listen to
Cakestar
as the Blogclan Leader calls for a Clan Meeting.
She makes an appearance in the story again as Hootsnout in Chapter Twenty-Five where she and Starblossom joined Lionfire (the Writer of the chapter) and the other cats in the group who were speculating what Cakestar was going to say in the Clan Meeting. Hoot grins as she joins the group and asks what they are talking about when the conversation gets negative and awkward.
Hoot is briefly mentioned for a third time in Chapter Twenty-Six (Written by Kat) under the name Plumeflake when she is seen returning to the Blogclan camp with Viperfrost and Rainshine after picking flowers to decorate the Camp with.
Friends
[
]
Owlnose has a lot of friends on the Blog and the Wiki. some of their friends include: (Edit in a name and/or a link to your page, if you want!)
Turtlepaw/ dapple
Ambixie (Spiritkit/sky)
Dusty (Dustpaw/heart)
Brightkit
Whirl (Whirlpaw/moon)
Smokey (Smoke That Fills The Air):D
Snakie (Snakepaw)
Flowie (Flowerpaw/song) Your fellow INTP-T
The Compliments Corner
[
]
Say what you think of and like about Owlnose (me), if you want!
(NOTE: Just to avoid confusion, past compliments may mention Owlnose by her old Blogclan names, Plumeflake AKA 'Plume' & Rufflecloud AKA 'Ruffles'.)
Plume is so nice and gives encouragement when we need it. She also lets us rant in front of her XDD -Dusty
You are very kind and always greet people (including me) so nicely, especially on BlogChat, and you are also REALLY smart!-Minnowkit(dust)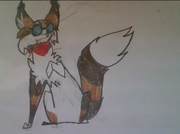 Plume is a great BlogClanner and friend, is amazing at making the Pronouns and Shipping Preference lists, and I would love to see her become a senior warrior. -
Moons
Plume is really nice. She is my friend. We both like They Might Be Giants. I'm happy that Plume has gotten all her vouches, and will become a senior warrior! ~Turtlepaw/ dapple who is too lazy to link their name. 😛
Plume is so approachable, nice, funny, and kind. She was so kind that she married me and eBay two times. Thank you, Plume for that. But knowing Plume, that is definitely not the only outstandingly weird nice thing she's done for other people. -Amazon
Plume is awesome and a great cat and an amazing, wonderful BlogClanner! She's super understanding and smart!!- Smokeyy <3 <3
Ruffles, you're amazing. You're great to talk to and joke around with. I know it's strange, but you're almost like an older sister to me. And, if you are leaving BlogClan, well, I will never forget you, because you're fantastic. ~Captain
Ruffles is awesome and is and will always be the best mentor on the blog!! ~ Moky!
Quotes
[
]
"I am Swedish car, vroom vroom"
"I AM THE LEADER OF THE MIDGES"
"I ate Ashfur"
"I am Asexual and I am gungry for cake"
"Hi Golf" (Greeting Goldenfawn/Goldi on Blogchat and spelling their name wrong)
"DO NOT CONSUME THE PLUME"
"I NEVER KNEW THAT BONEY M RECORDED GERMAN VERSIONS OF THEIR SONGS
NOW I CAN FINALLY LISTEN TO RASPUTIN IN HERMAN"
"CA-NA-NANA-NA-DAA!" (To the tune of an advertising jingle)
"I AM BRACKEN"
Favourite things
[
]
Video games
[
]
Another World/Out of This World
Cattails
EarthBound
Friday Night Funkin'
Jet Set Radio
Kirby
Minecraft
MOTHER 3
Parappa The Rapper
Pikmin
Pokémon
Plok!
Rhythm Heaven/Paradise
Robot Unicorn Attack
Sonic The Hedgehog
Stardew Valley
Super Mario Bros.
Techno Kitten Adventure
THE DOG Island
Toejam and Earl
Vib Ribbon
Wipeout (Futuristic Racing Series)
Tv shows (Live-action, Cartoons and Anime)
[
]
BattleBots
Cowboy Bebop
Evangelion
Funny Pets (anime)
Gravity Falls
Gregory Horror Show
Infinity Train
Jojo's Bizarre Adventure
Moomin
Mr. Stain on Junk Alley
One Punch Man
Over the Garden Wall
Popee the Performer
Robot Wars
Steven Universe
Urusei Yatsura
Movies/Films
[
]
Aardman Films
Akira
Brad bird movies
Interstella 5555: The 5tory of the 5ecret 5tar 5ystem
Laika films
Pixar films
Song of the Sea
Wes Anderson movies
Books, Comics and Manga
[
]
A Dog's Purpose (W. Bruce Cameron)
A Street Cat Named Bob (James Bowen)
Calvin and Hobbes (Bill Watterson)
Tailchaser's Song (Tad Williams)
The Beano
The Dandy
The Lost Thing (Shaun Tan)
The Marvels (Brian Selznick)
The Wild Roads and The Golden Cat (Gabriel King)
Music
[
]
4D/Roboterwerke/Supersempfft/Wunderwerke (Favourite Songs: 'High On Tech' (Roboterwerke), 'Instantly' (4D), 'Tropical Trip' (Supersempfft) and 'Be a Man you Frog' (also Supersempfft) )
Agrume (Favourite Song: 'Haricot Magique' and 'Another Artzie Stuff')
Air (French Band) (Favourite Song: 'Ce Matin-Là')
Alberto José González (Favourite Song: 'Rome' from Asterix NES OST)
Alexander Wiklund (Chiptune Music Composer) (Favourite Songs: 'Diskmag Dance' & 'FACEMORPH')
AMJ (Juha-Matti-Hilpinen) AKA The Hilpinen Brothers (Chiptune Music Composers) (Favourite Songs: 'Pashaus' & 'Unsound Minds')
Animal Collective
AnTgry (Favourite Songs: 'Milky Road' & 'DANCE!')
Aphex Twin (Favourite Song: 'Donkey Rhubarb')
Arcade Fire
Aritus (Favourite Song: 'Veii')
Average White Band (Scottish Soul Group)
Bad Manners (Favourite Song: 'Special Brew')
Barbwalters (Favourite Song: 'Cherelle')
Barry White
Bill Wurtz (Favourite Song: 'You're Free to do Anything You Want to')
Björk (Favourite Song; 'The Anchor Song' and 'Joga')
Boards of Canada
Boney M (Favourite Song: 'Daddy Cool')
Bonobo
Boys Noize
Breakbot (Favourite Song: 'Programme')
Captain Beefheart
Caravan Palace (Favourite Song: 'Plume')
Cassius (Favourite Song: 'Foxxy')
Chic
Chromeo (Favourite Song: 'Come Alive')
Confection
ConsciousThoughts
Dabeull
Daft Punk (Favourite Songs: 'Digital Love' 'Make Love' & 'Touch')
Darlin' (Favourite Song: 'Untitled 33')
David Bowie (Favourite Songs: 'Modern Love' & 'Sound & Vision')
Discoholic (Favourite Song: 'Still Down to Get Down')
Don Mclean (Favourite Song: 'Starry, Starry Night (Vincent)')
Dub Mood (Favourite Song: 'Insert No Coins')
Earth, Wind and Fire (Favourite Song: 'A Land Called Fantasy' and 'Boogie Wonderland')
Echorobot
Electric Light Orchestra (Favourite Song: 'Mr. Blue Sky')
Error Error
Esau (from Tulou/Traktor) (Favourite Songs: 'BlackEnuff', 'Budleigh Salterton' & 'Tour de Scene')
Ev.Exi (Favourite Song: 'Transition')
Fat Boy Slim
Fearofdark
Fibre (Favourite Song: 'Echoplex' Ft. Tendencies)
Flamingosis
Floating Points
Gary Numan
Georgie Red (Favourite Song: 'Help The Man')
Gesaffelstein
Giorgio Moroder (Favourite Songs: 'I Feel Love' Ft. Donna Summer & 'Together in Electric Dreams' ft. Philip Oakley)
Gorillaz (Favourite Song: 'Empire Ants')
Happy Cola
Her's (Harvey was my favourite song from them... R.I.P.)
Herbie Hancock (Favourite Song: 'Magic Number')
Hideki Naganuma (Japanese VGM Producer) (Favourite Song: 'Brother Goes Away' from the video game 'Ollie King')
Highfields (British Band) (Favourite Song: 'Waste of Space')
HOME
Hot Chip
Hot Chocolate (Favourite Songs: 'Every 1's a Winner' & 'Girl Crazy')
Jack Stauber
Jamiroquai (Favourite Song: 'You Give Me Something')
Jammer (Polish Chiptune Music Composer) (Favourite Song: 'Mr. Marvellous')
Jeroen Tel (Dutch VGM & Chiptune Music Composer) (Favourite Songs: In-Game theme for 'Eliminator' for C64, 'Koud He!' ('Cold, Eh?' in Dutch), 'Alternative Fuel' & 'JT in Space')
Jogeir Liljedahl (Favourite Song: 'Addiction')
Johnny Cash
Justice (Favourite Song: 'Valentine' and 'Randy')
Kate Bush (Favourite Song: 'Cloudbusting')
Keiichi Suzuki
Komputer (Favourite Song: 'Oh Synthesizer')
Kraftwerk (Favourite Song: 'Europe Endless', 'Neon Lights' & 'Antenna')
LACHEQUE (Favourite Song: 'Xerocks')
Laurie Anderson
Le Knight Club (Favourite Song: 'Troobadoor')
LemKuuja (Favourite Song: 'November')
Lemur
Linus Åkesson AKA LFT/lftkryo (Favourite Songs: 'Bit Banger' 'Turbulence' & 'Craft')
Madeon
Madness (Favourite Song: 'It Must Be Love' (Labi Siffre Cover) )
Markus Klein AKA LMan (Favourite Sonsg: 'Boombox Alley' 'Vortex' 'Could be Cool' & 'New States Of Consciousness' )
Mariya Takeuchi
Massive Attack
Maximum Love (Favourite Song: 'They Don't Love You Like I Do')
Mew (Danish Band)
Midnight Generation (Favourite Song: 'Alive' and 'Good Old Days')
Moby (Favourite Song: 'In This World')
Moderat
Modern Soul Band (German Soul/Schlager Group)
Modjo (Favourite Song: 'Chillin' and 'On Fire')
Moonriders (including Keiichi Suzuki) (Favourite Song: 'HEAVY FLIGHT')
Morcheeba
Mr. Oizo
Mr. Talkbox
Myd
Mystery Skulls (Favourite Song: 'Hellbent' & 'Magic')
Nelward (Favourite Song: 'Why Would I?')
New Musik (Favourite Song: 'Dead Fish Don't Swim Home' & 'I Repeat')
Nujabes (Favourite Song: 'Aruarian Dance')
Pad Chennington
Panchiko (Favourite Song: 'Laputa')
Panda Bear
Panta Rhei (German Jazz-Funk Group) (Favourite Song: 'Zwischen Gestern Und Morgen')
Parcels
Paul Simon
Peter Gabriel (Favourite Song: 'Sledgehammer')
Phoenix
Pink Floyd (Favourite Song: 'Comfortably Numb')
Play Paul
Pomplamoose (Favourite Song: Any Daft Punk cover)
Porter Robinson
Remute (Serbian-German Electronic Music Producer) (Favourite Song: 'Does Time Really Exist, If the Past Has Already Happened, Present Instantly Becomes the Past and the Future Did Not Happen yet?! ("I Don't Know" Version, from the 'Classics, Too' Album)' and 'Swordli')
Robclemz (Favourite Song: 'Limitations')
Röyksopp (Favourite Song: 'Sparks', 'Daddy's Groove' & 'Poor Leno')
Saint Pepsi/Skylar Spence (Favourite Songs: 'REVUE' & 'Alpine Ice')
Simon and Garfunkel
Sister Sledge
Skyhill
Slugbug
Slynk
Snakefinger (Favourite Songs: 'The Model' (Kraftwerk Cover) & 'The Man In The Dark Sedan')
Stardust
Strawberry Station
Studio Killers
Talking Heads (Favourite Song: 'This Must Be The Place (Naive Melody)' )
Tapani Kansa (Favourite Song: 'Kalajoen Hiekat' (Finnish Cover of 'California Dreamin' ) & 'R-A-K-A-S' )
Tatsuro Yamashita (Favourite Song: 'Bomber')
Télépopmusik
Tendencies (Favourite Song: 'Go!')
The Chemical Brothers (Favourite Song: 'Hey Boy Hey Girl')
The Follin Brothers (AKA Tim & Geoff, VGM Composers) (Favourite Song: 'Beach' from the Plok! OST for SNES)
The Kinks (Favourite Song: 'Waterloo Sunset')
The Lemon Twigs (Favourite Song: 'The Fire')
The Northern Hues (Favourite Song: 'New York Love' and 'Shine')
The Phantom's Revenge
The Real People
The Real Thing
The Residents
The Specials
The Steve Miller Band
They Might Be Giants (TMBG) (Favourite Song: 'Ana Ng')
Thomas Mogensen AKA 'Drax' (Favourite Song: 'Happy Happy Christmas' AKA the 'It's A Mystery' song)
Todd Edwards
Todd Terje (Favourite Songs: 'Inspector Norse' and 'DeLorean Dynamite' )
Together
Tom Tom Club (Favourite Songs: 'Under The Boardwalk' (Cover) & 'Wordy Rappinghood')
Toro y Moi
Trentemøller
Trio (German Group) (Favourite Song: 'Herz ist Trumpf')
Tuxedo
TWRP (Favourite Song: 'Body Image')
Unibe@t
Veronika Fischer & Band (Favourite Song: 'Philodendron' & 'He, wir fahr'n mit dem Zug')
Video Age
Wintergatan (Favourite Song: 'Sandviken Stradivarius')
Yellow Magic Orchestra (Favourite Song: Simoon)
Yotto
Zero 7 (Favourite Song: 'Red Dust')
Youtube Channels
[
]
Abroad in Japan
Ahoy
Aimkid
Alli Kat
Are Sounds Electrik?
Artzie Music
Ashens
Beffalumps
Crowne Prince
Dankpods
Dismiss Yourself
DJDiscoCat
Dog Toons
Don't Trust The Rabbit
Dream Beach
Echorobot
EFAB Sound
EGGPRIEST
Get Germanized!
Grand Illusions
Heatherly
Henry Origami
Hot Dad
Incuriouscat
JeremyShaferOrigami
Joel G
KékéFlipnote
Kim Justice
Klepperderep
Larry Bundy Jr.
Lemur/Lenstar Productions (Animator and Composer)
LOOK MUM NO COMPUTER
Louie Zong
LSuperSonicQ
Moonkitti
Mr. Mobile (Michael Fisher)
My Analog Journal
Nelward
Nifty-Senpai
Origami with Jo Nakashima
Pad Chennington
Paul Dinning
Psych2Go
Purrimb
Sagutoyas
SiIvagunner
SilverThePuppy
Soulr
Steamy Cafe
Techmoan
TennelleFlowers
Terminal Passage
THE IN KRAUT
Tom Scott
TribbleOfDoom
WHAT IS WRONG WITH GROOVING
Other
[
]
Animation
Art
Computer Demoscene
Cycling
European Culture (Specifically German & Nordic culture)
Music
Maneki-Neko
Origami
Retro Technology & Media
Former Purrsonas and characters that could've been a Purrsona
[
]
Former Purrsonas
[
]
Brightsky - a long-haired calico she-cat with blue eyes
Breed - feral cat
Mapleheart - a long-haired dark brown tabby she-cat with long legs, a dark brown M marking on her forehead, dark brown ears, a cream-coloured belly, chest, muzzle and paws and amber eyes.
Breed - Norwegian Forest Cat (?)
Beckoning Paw - a calico she-cat with a stumpy tail and golden eyes
Breed - Japanese Bobtail
Misty Moors - bluish-grey-and-cream she-cat with a broad, flat face, folded ears and amber eyes
Breed - British Shorthair & Scottish Fold
Sundrift - tall long-haired ginger-and-white she-cat with yellow eyes
Breed - Oriental Longhair
Hootsnout - grey-and-white she-cat with folded ears and yellow eyes
Breed - Scottish Fold
Cedarcloud - Long-furred brown tabby she-cat with white markings and yellow-green eyes
Cat Breed - Norwegian Forest Cat & Scottish Wildcat
Heavycloud - Long-furred dark grey-brown-and-creamy-white she-cat with yellow-green eyes.
Cat Breed - Norwegian Forest Cat & Scottish Wildcat
Jaycloud - Long-furred grey-brown-and-creamy-white tabby she-cat with very dark, almost black stripes and blue eyes.
Cat Breed - Norwegian Forest Cat & Scottish Wildcat
Plumeflake - Long-haired greyish-brown-and-white tabby she-cat with dark blue eyes.
Cat Breed - Norwegian Forest Cat
Owlcloud - Long-furred brown-and-white tabby She-cat with blue eyes.
Cat Breed - Maine Coon, Turkish Van & Himalayan mix
Rufflecloud - Long-furred brown-and-white tabby She-cat with blue eyes
Cat Breed - Maine Coon, Ragdoll & Turkish Van mix
Characters that could've been a Purrsona
[
]
Circuit Tree - no definite appearance
Cloudstep - brown-and-white she-cat with blue eyes
Breed - British shorthair/Ragdoll mix
Heavyflight - a thickset tabby she-cat
Breed - Scottish Wildcat
Morning Song - tall reddish-brown tabby she-cat with green eyes
Breed - Abyssinian
Pigeonfeather - grey tabby-and-white she-cat with green eyes
Breed - feral cat
Rhythmic Steps (formerly known as Patternspotter) - thick-furred thickset tabby she-cat with green eyes
Breed - Scottish wildcat
Speckled Egg - mottled brown-and-cream she-cat with blue eyes
Breed - British shorthair
Trivia
[
]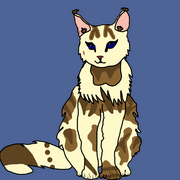 Owlnose first commented in 2013 under the name Brightsky.
They joined Blogclan again as Mapleheart in 2016 after nearly a three-year break.
When they were still called Mapleheart, Hoot was jokingly shipped with the American supermarket chain Wal-Mart in the joke ship called Maple-Mart. They don't remember who started the ship, but is pretty sure that it was either Willowlight (Wollow) or Winterwhisper (Wint).
Owlnose was the Blogclanner who suggested that Blogclan "fursonas" could instead be called Purrsonas.
They run the Shipping Preferences/Sexuality List (where Blogclanners' sexual orientations and preferences on themselves being shipped are listed by alphabetical order) on the Shipping Discussion Page.
Hoot also came up with the idea of the Pronouns List (the Genders and Pronouns of Blogclanners are listed, also in Alphabetical order) on the Allegiances Discussion Page, but has since given the role of running the list to Monkeypaw.
The scar that Owlnose's purrsona bears on their left cheek in some drawings is based on a real-life scar that they got when they were 6 when they tripped over one of their old dogs and hit their head on a table. It now appears as a dimple on their cheek whenever they smile or squints their eyes.
They have one dog, an Alaskan Malamute called Malakai.
Hoot has owned two chinchillas in the past.
They know how to swim, but hasn't done so since 2013.
They owns a collection of lucky cats, including 15 ornaments and coin banks.
They once had a crush on the number 7 as a child, strangely enough.
Their favourite number is 3. Other numbers that Hoot likes are 4, 7, 64 and 180.
Their least favourite number is 9.
If they could choose which Clan to live in, they would choose Riverclan or Skyclan because they like the cultures and agrees with the values of both clans.
If Owlnose had to choose which role they would be if they were a Warrior Cat, they would either choose being a Senior Warrior or Elder because they do not want a special role like Deputy or Medicine Cat, but still wants a rank of experience as they are quite old in age but still wants to help out in whatever clan they are in, and , and also because they would like telling stories to Kits if they were an Elder.
Their Horoscope is a Taurus and their Chinese Zodiac is the Metal Snake (like Pablo Picasso).
Their Myers-Briggs personality type is ISTP-T and their D&D Alignment is Lawful Good.
They might also be a 5w4 in the Enneagram chart.
There is a star in Andromeda that is actually named after them, no joke.
They have roots in Scotland and possibly also the Scandinavian countries, most likely Norway and/or Sweden.
They are possibly also Polish and/or Irish.
Gallery of Art featuring Old Purrsonas
[
]
Coding done by Bluebell and Crystie!
Coding error fixed by Moons!