i'll update this
one day
owo
BE PREPARED YOU'RE ABOUT TO READ ABOUT THE BEST PERSON EVER... -Lane (don't listen to him I'm not that great) YES SHE IS AGREE OR YOU D I E.
♡Purrsona♡

[

]
literally just
a brown cat
(listed on the BlogClan Allegiances as Moonspirit: fluffy tan-and-brown she-cat with light green eyes and darker underbelly)
ref: (old, bad art but still accurate)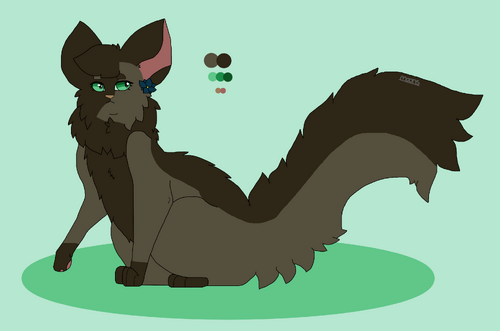 ♡BlogClan stuff idk♡

[

]
rip siggies :(
-Joined BlogClan April 22nd, 2019. (though due to the Blog being in a different timezone than me, I believe it was actually April 21st in my time)
-Joined under the name Moonstripe, later name changes were Moonpaw/stripe, (when I found out I was an apprentice) Moonpaw/spirit, (when I changed my fursona but was still an apprentice), and finally just Moonspirit when I became a warrior.
-Joined this Wiki on June 11th, 2019, (I think) after some stalking.
-Not very active on the Blog itself anymore, though still on the Art page and NTA page sometimes.
-Technically running for Senior Warrior with Clo, but both of us forget to post reminders 99% of the time.
-Very active in the BlogClan Discord servers.
-Featured in the Blogfic Serene by Blueheart.
-Never been featured in Trailing Stars.

(Fanfictions I've written [in order from newest to oldest] are Anew, [completed one-shot] The Road to Hope, [one-shot that won third place in the November 2019 BlogClan Writing Contest] and The Beginning of LightingClan. [unfinished and very old, actually slowly being rewritten and finished maybe])
♡personality(?)♡

[

]
idek anymore
isfp-t if that counts for anything
socially anxious as heck
anxious in general as heck
probably annoying
confused
tired
happy if with Lane <3

CORRECT PERSONALITY:
Sis- I MEAN MOONS- is sweet, loving, and caring. She's protective and she's strong, humble and gentle, but fierce. She knows how to make you laugh even when you both feel like crying. She's creative and talented, yet she never seems to understand or promote that, even though she deserves it without a second thought. She's literal perfection, and I know that if you took the time to know her, you'd love her too. (And if you don't you're a jealous mouthbreather who can choke on oatmeal)
♡uh♡

[

]
I forgot why I even made this but for the record tysm for kind words ily all :')
Moons is perfect and amazing and caring and lovely and just heccing amazing! Ily Moons - Emby

My favorite person to fangirl about Pearl with! - Guess who?

Moons is fun to chat with in BlogChat! ~Turtlepaw/ dapple.
Moons was the one I really got to talk with when I first went on BlogChat and we b

Moons is all-together AWESOME!!! And the best best friend someone could have!! <3- The one and only!

Even though she doesn't understand memes, she's still a great friend to have around when you need company <3 - Fawny

BROOMS is the best absolutely amazing friendo and Pearl is truly The Best Gem and anyways yeah. you are amazing brooms <3 ~ SHADOOR

Mo(o)ns is wonderful and a great friend and one of the best Earthlings around. -Flame

Moons, Moons, Moons, what can I really say about someone so indescribably wonderful? She has a lot of personality, that personality is just absolutely awesome, she's kind, she's like...one of those friends that when everything (or everyone) around you is like a tsunami, is like a calm river you can relax to. Your the absolute best <33-A wild Rosette-a-shrine
MOONS IS THE BEST SISTER EVER I STG- I LOVE YOU SO DANG MUCH SIS I JUST- I COULDNT DO LIFE WITHOUT YOU. I THANK BLOGCLAN SO MU CH FOR BRINGING ME TO YOU. YOU'RE MY BEST FRIEND FOREVER AND I LOVE YOU JUST SO FLIPPING MUCH AND UH- HUG - Lane, if that wasn't obvious <3
ALSO YOU'RE INCREDIBLE AND I FLIPPING LOVE YOU I- AAAAAAAAAAAAAAAAAAAAAAA- -Lane
Moons is an amazing, wonderful and stupendous friend and is overall a great person that you could easily vibe with :D~Goldenbee
Moonspirit is a very fantastic person with a fabulous sense of style. Even though she might say she's dumb or bad at art sometimes, don't listen to her. She's amazing at everything, and we are all very lucky to have someone like our dear Moons. ~ Coldie <3
Moonspirit is humble, funny, friendly, cool, kind, and talented! Her art is gorgeous!!! -Mounty
Moons is really kind and awesome!-Snowwy Cat
♡Art♡

[

]
Too lazy to update this anymore if you draw me feel free to add it yourself :'D
Old purrsona
First beautiful page coding done by
Crystalshine (Crystie)
<3 When I was taught to code, I
started coding this page by myself and I've redone it like 71264714617846172846 times now because I keep getting dissatisfied with it. :')