Moonpaw/stripe is a apprentice of BlogClan. Her mentor is the amazing Goldi/Goldenfawn!
Moonpaw/stripe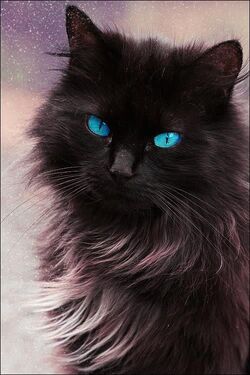 | | | |
| --- | --- | --- |
| | Other Names | Moon, Moons, Moonie, Broomstripe |
| | | |
| --- | --- | --- |
| | Relatives | None on the Blog |
| | | |
| --- | --- | --- |
| | Affiliation | BlogClan, LightingClan |
Biographical information
| | | |
| --- | --- | --- |
| | Fur Color | Black with silver stripes |
Moonpaw is a jet-black she-cat with sleek silver stripes and dark blue eyes. (Listed on the allegiances as Moonpaw- black she-cat with silver stripes and dark blue eyes.
Personalty
Edit
Moonpaw's personalty is a bit different on the Blog then in real life. In real life she can get sarcastic and even a bit snippy when stressed, but tries not to lash out at loved ones. On the Blog she's friendly and tries to make everyone feel welcome. She's also a nervous wreck and gets nervous over pretty much everything, in real life and on the Blog.
BlogClan
Edit
Moonpaw found the Blog looking at pictures of Ivypool. She didn't originally intend to be part of the Blog but ended up being active on it in the end. She's usually there on Saturdays but more if she can.
BlogClan 2 Wiki
Edit
Moonpaw found this wiki shortly after finding the Blog. She made this page and the rest is history. She's usually here the same time she's on the Blog.
LightingClan Wiki
Edit
Moonpaw has her own wiki, called the LightingClan Wiki. It's for her fanfiction, "The beginning of LightingClan."
Fanfictions
Edit
Moonpaw is working on a few fanfics, but only one is currently online: "The beginning of LightingClan."
Favorites:
Edit
Warriors Characters:
Edit
Ivypool
Violetshine
Mothwing
Leafpool
Squirrelflight
Dovewing
Bluestar
Darktail
Hawkwing
Gray Wing
Clear Sky
Tallstar
Mistystar
Jayfeather
Crowfeather
Stormfur
Feathertail
Brightheart
Briarlight
Firestar
Cloudtail
Hobbies:
Edit
Reading
Writing
Drawing
Gaming
Journaling
Fandoms:
Edit
Warriors
Sonic the Hedgehog
Minecraft
Pokemon
MLP
A bunch of others she's too lazy to list...
BlogClan friends
Edit
Feel free to add yourself!
Crystalpaw/shine/Crystie (Sonic fans together!)
Pebblerose/Pebble
Shadowcloud/Clo (LightingClan wiki mod!)
Thistletooth/Thistle (Also LightingClan Wiki mod!)
Blackkit/Blackie the emoticon master
Joined the Blog April 22, 2019
She has so many OCs she can't keep track of them all
Loves FOOD 😛
Got into Warriors when she was 10 or 11 she can't remember lol
Has her own wiki
Loves SONIC 😛
Hate socks...
Gallery of random stuff
Edit
Gallery: Art by Moon
Edit
Gallery: Art of Moon
Edit
First page coding by
Crystie
.
Current coding by Moons herself! </div>
Community content is available under
CC-BY-SA
unless otherwise noted.