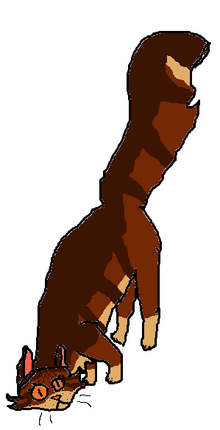 Mapleheart is a long- haired dark brown tabby she-cat with a cream belly, chest, paws and muzzle, legs that are a tiny bit longer than usual, a dark brown M on her forehead, dark brown ears, a fluffy tail, cheeks and belly, and amber eyes with a brownish tint.



Mapleheart originally joined BlogClan on Dec. 8, 2013 under the name Brightsky. She roamed the blog for a while, but left after seeing someone with the same name on an older post. She then rejoined on Mar. 12, 2016, nearly three years later, under another name. She checks the Tavern and Fan fiction page every day, listening in on everyone's doings. Mapleheart also looks at the Name Generators page, and participates in some, coming up with wonderful characters. She feels as if she's not participating enough, so she tries to reply to a lot of people, though laziness drags her down.
Mapleheart can be lazy and impatient at times. She is quiet and relaxed most of the time, but sometimes she cannot stop talking or running around.
The appearance of her original fursona, Brightsky, was a pretty long-haired calico She-cat with bright blue (or green, she cannot remember) eyes.
If she was in a clan, she would be in ThunderClan.
She owns one dog..
She wants to be an animator, computer programmer or engineer.
She is a fan of the TV show Robot Wars, and her favourite robots from the 1998-2004 series include Behemoth and Pussycat, with favourite house robots being Growler and Matilda. (Her favourite robot from the 2016 series is Behemoth, with her favourite house robot being Matilda.)
She also likes Gravity Falls, and her favourite character is Mabel.
She also likes Steven Universe, and favourites include Peridot, Pearl and Lion.
Another one of her favourite cartoons is Over the Garden Wall.
Her favourite and lucky number is 3. Some of her other favourites are 4, 7 and 5.
She is a Relatively Excitable Stoat.
She was shipped with Owlwater (Mapowl), Flame that shines like sun (Flap? Flamaple? Flapl?), Jagged Peak (Jaggle), Moonpaw (Moople) and even the supermarket chain Wal-Mart (Maple-Mart).
Her favourite season is Autumn/Fall, with Spring being second, Winter after that, and Summer last.
She loves rainy weather and starry skies.
She is the leader some secret clans.
She owns a small collection of maneki neko.
She might make a combat robot with her father.
Community content is available under
CC-BY-SA
unless otherwise noted.