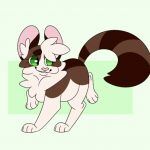 A petite and fluffy tabby and white she-cat with pine-green eyes.
Empathetic, sensitive, over thinks things, Hufflepuff, INFJ-T, Aries Sun, Gemini Moon and Sag. Rising, Chaotic Neutral.
Can usually be found on Warriors Games, Allegiances Page and in an abundance of Role Plays
Friends- Feel free to add yourself!

[

edit

|

edit source

]
Sunniepaw
Goldenfawn
Dovestream (your favorite wIFE) (are you implying I have multiple? gAsP --Lil)
Emberpaw
Starla
Ambercloud
Bouncepaw
Smokeypaw!! <33 :D
EBAYYYYYY
She can sew and has a sewing machine, has been riding horses for going on 7 years, is southern, loves sweet tea and doctor pepper, loves acting and writing and reading
MWAHAHAHAHAHAHAHAHAHAHAHAHAHAAHAHAHAHAHAHAHAHAHAHAHAHAHAHAHAHAHAA- Smoke That Fills The Empty Randomness
Community content is available under
CC-BY-SA
unless otherwise noted.