Lifelight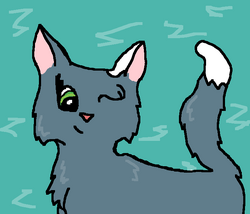 | | | |
| --- | --- | --- |
| | Other Names | Li-Li, Lifey/Lifie, Dawnstreamisleader ~ deviantart |
| | | |
| --- | --- | --- |
| | Affiliation | School, library monitor |
I am a blue-grey she cat with a white paw & tail.
My former fursonas are Vixenheart, a orang-red she-cat with a white patch on her tail and Ashdrift, a burnt-brown she-cat then burnt brown with a white paw & ear THEN white with a burnt brown ear & paw.
Personality
Edit
I absolutely love to read. I'm a total bookworm And I will read almost anything you put in front of me.
(I'm a Hufflepuff, Gryffindor and Ravenclaw in that order)
On the blog
Edit
I joined the blog on June 1 2019. I think first commented on the allegiances chat page.
I pretty sure I will have Crystie as my mentor when she becomes seinor warrior.
BLOGCLAN
Add yourself! I'll be really sad if u don't 'cause I have practically no blogclan friends sadly
IRL
Cloudpaw/song
Lynxpaw/pelt
Frdpaw/bear
Toykit/flower
Swiftkit/dusk
Olivekit/morning
Opalkit/Leap
lavenderkit/morning
darkkit/blood
Rainkit/eyes (may come to blogclan)
"Sup." - greeting someone
"*happy mood*" - Every day Ash
"Clever ducky" or "clever Bucky" - Saying someone is smart or clever about something
"Geez Louise" -When shocked
Feel free to add a ship if you want!
Sandy x Li-Li (Lindy)
Fanfictions
Edit
PowerClan's beginning (Join plz, form is on name generators and fanfic page)
Dawnstar's Kitting in progress
The Eruption coming soon (a collab with Sandy)
Gingerstar's Problem coming soon
The 7 gems by MlpClanners. link to join:
https://blogclan.katecary.co.uk/d4ypibe-8524cbb8-b064-4a8c-a1f6-c88b84f2569f-1-png/
Feel free to add a drawing! Li-Li will love your drawings <3
She has a lives in Australia.
Her birthday is in December.
She has a brother called Pixelpaw/blaze
She was formerly called Midnightpaw (Mid), Rubypaw (Rub), Goldpaw (Goldeen), Ravenpaw (Rav), Phoenixpaw (Fawkes), Quartzpaw (Quazzy), Ashpaw (Ash), Vixenpaw (Vix)
Sandy told her about BlogClan.
Her pen name is … lighté
She is on scratch.
Coding done by Sandy </div>
Community content is available under
CC-BY-SA
unless otherwise noted.