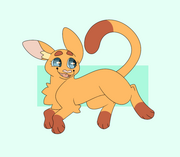 Hi everyone! Welcome to my page!
PURRSONA
[
]
sleek orange cat with red-ish brown paws and tail-tip, round blue-grey eyes
THE BLOG
[
]
I'm usually on the tavern, the hug page, fan fiction organization, fan fiction, warrior names, and blogclan art! I also love to roleplay. I found the blog in 2020 when Lilybreeze (Lil) forced me to join. But I'm glad she did as I made a lot of awesome friends here!
DISCORD
[
]
You can find me on a ton of servers! The BlogClan Community is one of the many.
I'm the official Queen of Emoji Land (Lil approved, obviously) and I'm a moderator on a variety of fun severs! I'm a member of a bunch too, of course, and you can always invite me to join yours!
To friend me, just find me on the BlogClan communtiy server and send me a friend request. Trust me, I love friends and won't decline useless you aren't from the blog.
THE WIKIA
[
]
I have two pages: my main page (which you are viewing now) and my art page (where I place some of my art). Link to art page: Luna's Little Art Page.
I can help you make a page, though I can't code (sorry!).
TRIVIA
[
]
My in real life friend(s) are Lilybreeze (Lil) & LillyBlarf (im awesome -- lil)
I'm fourteen years old (as of 2021)
My clanniversary is December 15th, 2020
My zodiac sign is cancer
I read, write, and draw
I'm part of EmberClan (leader)
I have three sisters (all off-blog)(nicknames: Splashkit, Quickkit, and Briarpaw)
LINKS
[
]
ART! <3
[
]
I love these all so much!! <3