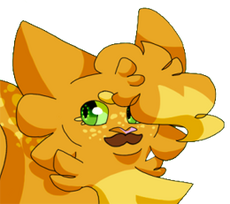 Sup my dudes

This is just some totally normal non-suspicious text.
 Fursona
[
]
A bright orange she-cat with pale yellow speckles on her cheeks, above her nose, and along her back. Her chest, tail tip, eyebrow spots, and ear fluff are also a pale yellow. She has light green eyes and a pinkish nose. She has an average build with smooth fur, with the exception of occasional small hair poofs and a fluffy tail. Her inner ears are also a pinkish skin tone.
Hair poof/Bangs are optional, but are side-swept to her left (your right) and often have a pale yellow stripe along the edge.
Personality Stuff
[
]
I am a human who likes memes, Minecraft, cats, animation, cats, drawing, wings of fire, cats, dogs, animals, the environment, cats, bad jokes, and cats.
I love nature very much and I am definitely a "tree hugger". I'm generally a quiet person. I'm not exactly shy, I just don't know how to start a conversation, and I'm not super confident. However, I love spending time with friends when I meet people who genuinely like me too, and I love to try and make bad jokes whenever I can. I might be very awkward, but I try my best to keep up a conversation when I can.
I'm very passionate about helping those in need and protecting the environment. I love learning about different cultures, and I'm very open and accepting of the LGBTQ+ and other communities because I believe that everyone is allowed to have their own beliefs and lifestyles as long as it doesn't hurt anyone else. Spread the love, my dudes ♥
On the Blog
[
]
Fawnspots joined the Blog on January 2, 2017. She is not very active but mostly visits the Tavern and the Art page but also visits the Warrior Games Page, Discussion Pages, the Hug Page, the Allegiances Chat Page. She visits other pages, but less frequently. She has participated in the 2020 Art Collab, won the February "Wholesome Warriors" Art Contest, and has drawn an art piece for Cadvent 2017 and 2019. She became Senior Warrior in May 2020, and officially appeared on the Allegiances as Senior Warrior in June 2020. On September 8th of 2020, Viper changed the "rip" moddocorrect to "fawny won't let me kill this thing so pls roll in some pumpkins even tho its september k thx bye my brain" because I wanted it to remain a moddocorrect.
How I found warriors
[
]
In 5th grade, my friend Lilypool forced aggressively persuaded me to read the first book in the series, Into The Wild. After that, I was hooked, and I've loved Warriors ever since.
How I found BlogClan
[
]
I was just scrolling the web, and I stumbled across Blogclan. I can't exactly remember how I found it, but it was something like that. ¯\_(ツ)_/¯
Trailing Stars
[
]
She appears in Trailing Stars Chapter 26. She is seen emerging from the warrior's den, eyes aglow and set on the breakfast, and is later seen bringing out Kat's nest for her.
Friends
[
]
Go ahead and add yourself! :)
Sandy!!
Moonpaw/shine
Turtlepaw/ dapple
Archkit!
Goldenpaw(Goldenberry)<3
blackie/crow/sopepshipper >:]
Riverpond
Its ya gurl Larkie :P
What people say about me
[
]
Lol idk go ahead and say something if you want to.
You're a great artist Fawny!!! -Clo
Hi Fawny. I think you are nice, and you are fun to talk to in BlogChat. I also like your memes you sometimes share. And you're a good drawer too. ~Turtlepaw/ dapple.
MUSTACHIO GANGGGGG - pine (ily tho <333)
Fawny is super fun and friendly, and a good artist! Also totally the best wife ever. - Snowy :)
Fawny is super funny, smart, a great artist and a cool potato! ~Flighty
You seem like a great person. And I, too, stumbled randomly upon BlogClan while searching for Warrior Cat info (I don't know why-). Even though I don't know you very well, I've seen you in the BlogChat a few times, and I hope you get Senior Warrior soon. ~Leafsky
Hi! I really like your drawings and your creativity. Good luck for the Senior Warrior campaign!!!
-Goldenpaw
fawny how do you draw ahh
-blackie/crow
YOU ARE THE TRUE MEME OVERLORD okay but besides that you are the best fawny and your art is the best :D ~ shadow
You're so kind and funny, Fawny!! I haven't known you that long, but I know that much. :D
-Crookedmoon(really paw, but heh)
Fawnyspots is such a talented artist and a great cat! BlogClan wouldn't be the same loving, kind, funny place it is now without the amazing Fawny. ~ Coldheart.
Quotes
[
]
If I say something that you find quote-worthy, go ahead and add it yourself because I will probably forget.
"wuuld u like some bluddy gud fud in the hud. That's a nud mud >:]" - beauty
"IF WE WERE SOCKS, I THINK WE'D MAKE A GREAT PAIR" - how could you not fall for that Fawny pickup line
"Squeaky, uh, squeak, squeaker, squeakin'." - Kronk
"A wild Fawny appeared![ . . .] CRAP I CANT FLY
Ships
[
]
I am unofficially married to my wonderful wife Snowy (Snowbreeze), but feel free to ship me if you want.
Trivia
[
]
I have 3 siblings, and 3 smol doggos
I have a severe addiction to Minecraft
If I am inspired, I can draw for hours on end while watching Youtube/listening to music
I am a ginger in real life
I am a total bookworm
I'm a beginning animator, but I'm trying to improve
Gallery
[
]