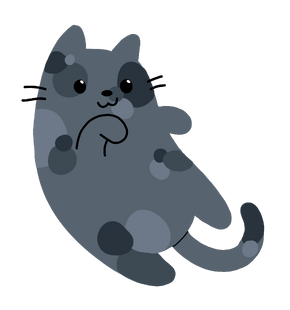 Driftingpaw
is a dark gray she-cat with spots that range from black to light gray, dark teal eyes, and a face that is trying to look smug
Driftingpaw
Other Names
Falling Feather; Featherfall (by Lapis!); Drifter
Affiliation
BlogClan
Biographical Information
Mentor
Foxtail
Rank
Apprentice
Physical Description
Gender
female, she/her
Fur Color
Dark gray with spots ranging from light gray to black
Eye Color
Dark teal
Driftingpaw is pretty laid back and idealistic. She has a tendency to be paranoid and very skeptical.
*Driftingpaw is an INTJ 5w6
Around early March, Driftingpaw found the blog by searching through the sources on Warriors Wiki after watching the Moonkitti video about the Warriors Wiki. She doesn't have a consistent schedule on the blog, but checks the Art Page most frequently.
*she goes by "falling feather" on BlogClan
Interests:
Psychology
Drawing
Avatar: The Last Airbender
The Legend of Korra
Scooby-Doo (no Scrappy-Doo)
Warriors
Wings of Fire
Graffiti
Favorites:
Color : light blue
Character in Warriors : Whitetail
Board game : Careers or Life
Show : Taskmaster, Avatar: The Last Airbender, or The Legend of Korra
Warriors MAP : "Ready as I'll Ever Be"
Musical : Cats!
Character from Cats! : Mungojerrie
Song from the musical Cats! : "Mungojerrie and Rumpleteazer"
Songs from Hamilton : "The Room Where It Happens", "Non-Stop", "Aaron Burr, Sir", and "Guns and Ships"
Style of design : Minimalist
Video game : Splatoon
Misc. Trivia:
In Ravenclaw
Plays D&D
Likes graffiti art
Feel free to add yourself if you want 🙂
Goldenberry
Redblaze!!!!!
Skipper (Falconstorm)
Ivykit(Spottedleaf010 on here)
Larkfeather :)
Silverrrrrrrrrrrrr (Silverpaw/fin)
Shadowwing
Lone/Rosette!!! :)
Rustlingleaves :)
Sandyyyy
Coding by Honeysplash!
Community content is available under
CC-BY-SA
unless otherwise noted.