Cheetahspark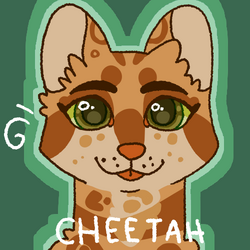 | | | |
| --- | --- | --- |
| | Other Names | Cheetah, Cheet, Cheety, Cheeto, Sparky, Flamin' Hot Cheetah, Chester, Chest, Chesty, Xheetah, Evil cheeto poof, Cheetahpaw (former) |
| | | |
| --- | --- | --- |
| | Relatives | Mom, dad, stepmom, sister, stepbrother (often referred to as just brother), stepsister |
| | | |
| --- | --- | --- |
| | Affiliation | BlogClan and a heck of a ton of secret Clans that have long since went inactive |
Biographical information
| | | |
| --- | --- | --- |
| | Mentor | That one BlogClanner that changes their name all the time (you know the one) (former) |
| | | |
| --- | --- | --- |
| | Apprentice | Snakepaw, Flameflower (former), Hawthornclaw (former), Lapisdapple (former), Rosesong (former) |
| | | |
| --- | --- | --- |
| | Rank | Deputy, formerly Senior Warrior |
| | | |
| --- | --- | --- |
| | Fur Color | Tan with black spots and stripes |
Cheetahspark is a small, sleek, short-furred bengal she-cat with a pale chest, belly, and emerald-green eyes.
On The Blog
Cheetahspark became a part of the Blog on January 7, 2018. Since joining, she's written about six articles (though don't read them--they're awful), has written a lot of fanfiction (also awful), joined a few roleplays, and much more. While she was an apprentice, her mentor was Beckoning Paw (as they were named at the time). She attended the April 2018 Gathering, Summer 2018 Gathering, Discord 2018 Gathering, and BlogClan Wiki 2018 Gathering. She and Rainshine hosted the Winter 2021 Gathering and June 2021 Gathering. Cheetahspark became a warrior on May 18, 2018. She's been hosting the available mentor/apprentice list for a while now and doesn't even understand the point of the list herself but enjoys it anyway. In April of 2019, Cheetahspark's chapter of Trailing Stars, Chapter 24, was published. On April 12, 2019, Cheetahspark became a member of the BlogTeam as Birthday Editor. In 2018, Rosesong became her apprentice, in 2019, Lapisdapple and then Hawthornclaw became her apprentice, and sometime in 2020, Flameflower became her apprentice. In 2022, Snakepaw became her apprentice! She started running for senior warrior in June 2019 along with her runningmates, Rainshine, Frostfire, and Spidersong, and she was made a senior warrior on November 1, 2019. During the 2021 BlogClan Elections she was elected Deputy of BlogClan.
Personality
Cheetahspark can't exactly pinpoint what her personality is. It kind of changes randomly, and it's a bit different on and off of the internet. She is outgoing but can be socially awkward and shy at times. Cheetahspark also tends to be sarcastic (which is extremely hard to convey through a screen unfortunately and results in a lot of misunderstandings) and likes to joke around and have fun. She tries to be as friendly to new and old members of the blog as possible, and likes to connect with others over shared interests. She practically lives on the internet now (thanks a lot, BlogClan). She's become a little more closed off over the years and is way less outgoing than she used to be on the blog, but she still loves everyone and is always open to new friendships!
Trailing Stars
Cheetahspark was featured in Chapter 23 of Trailing Stars as a warrior. She was shown to be helping an injured Hazelburrow to his nest.
Chapter 24 was in Cheetahspark's point of view. BlogClan was in disarray about how to deal with the badger that had been terrorizing them, and Cheetahspark spent the chapter torn between what was right and what was convenient. In the end, they released the badger, and Cheetahspark helped chase it away.
In Chapter 25, Cheetahspark is shown sporting a scratched nose and torn ear from a recent fight.
Cheetahspark was shown chatting with Iceflower, Pineblossom, and Birchfoot at the fresh-kill pile in Chapter 26.
Vandalism of My Page
WAHOO CHEETO IS MY ABSOLUTE FAVORITE CAT/PERSON EVER SHE IS MY ROLE MODEL AND I NAMED MYSELF AFTER HER!!!!
-Can you guess? Cheetahheart!
Cheeto your awesome and so dedicated, and its hard to put it in one sentance! Your so funny, kind, fun, and talented! And a bunch of other awesome stuff, keep making people happy Cheeto!
-Mothsy
DANG ITS THE LOSER CHEETO THE MOST AMAZING CAT EVER WHO DESERVES ALL THE HUGS IN THE WORLD DUDE AND I CAN'T THINK OF ANYTHTIBG ELSE TO SAY SO INSERT MORE COMPLEMENTS THAT DONT INVOLE ME SCREAMING FOREVER :]
-Emby duh
I have had several interesting conversations with Cheetah and I'm sure you will, too! She's a very nice person and quite wise, as she was what created the big bang.
- Ember
Cheeto, I could go on and on for all my life but I HAVE to put it into a tiny little sentence about how AMAZING you are. Your kind and funny and just the best. You have made BlogClan a better place and I bet all your apprentices are so lucky to have such an amazing mentor. Have a great day!
- Dawny
Hi, Tigerpaw here. You´re an amazing person who always dedicates herself to the Blog, and your crazy sense of humor is always fun to see. Never change, Cheeto!
Cheetah is awesome! We are soooo lucky that's she's our BlogClan deputy! And btw, her sense of humor is downright CRAZY! ;p Sweet, caring, and thoughtful all at the same time! Awesomazing, that's what Cheetah is! SHE IS FANTABULOUS!!! - Cloudy sends her best wishes <3
- Tigerpaw
And now I'm messing up your page but WHO CARES? Cheetah is soooo nice and sweet and caring and kind and fantabulous and friends with everybody! SHE IS THE BEST!! 
- Spidey 
Three words. Best. Mentor. Ever! ily, Cheet! Keep up the great evil plots! Seriously though, you are one of the people that truly make BlogClan special.
-Flamey (Flamepaw)
*stumbles in* oh hey. Cheetah is, like Spicy said, sweet, kind, fantabulous, awesome, and WEIRD! (but in a good way, :D) (and also Spicy was not auto correct XD) 
- Rosie (:P) 
Cheetah is awesome and nice and convinced me to like Doctor Strange again :P :P :P :P 
- Moonypaw
Cheetah is fantastic and I don't know what else to say. Her energetic comments make me laugh and the vibe she leaves in each comment is... amazing. :D cheeto is the cheetoiest speediest cheetah and she is also a spork :DD
- Riv :)
Cheetah is awesome and funny and friendly and... everyone else covered what I was going to say! :P
- Frosto
Lol I'm not even sure if I'm supposed to edit this but CHEETAH IS AMAZING AND NICE AND FUNNY SHE IS THE BEST!1!1!1!1!1! :D
- Bracken
CHEETAH IS SO FUNNY AND NICE AND KIND AND SWEET AND AMAZING AND... um AND AWESOME!!!!!!! :P
- Crystie
Cheetah is awesome!
- Sandy
Cheeto is cheetoier than chester cheetah and cooler than ice cubes with sunglasses. She also has an unhealthy obsession with straight up sugar packets and KFC chocolate chip cookies, but that's not important. She is an awesome person who is always there to have a weird talk with me and make me feel great. Now, I'm supposed to praise Cheetah's awesomeness, so I shall do so in the form of a song. *clears throat* OOOOHH CHEETTTOOO YOOU AREE SOOO AWWEESOOMMEEE!!!!! *everyone runs away screaming*
-Iris :P (who clearly can't code and make her text look like everyone elses :P )
Cheetah is a sPEEDY MOD!!!!!!!!
- Navy
Cheetah is the slowest mod ever, because she has to get her hotpockets. She's still very cool and amazing though :P <3
- Pineblossom
Cheetah is amazing, and awesome. and kind, and the best mentor EVER!
- Lappy
The fastest animal on earth is a cheetah. And Cheetah is a speedy mod. And also a kind, amazing, and wonderful BlogClanner, mod, friend, and Birthday Editor. <3
- Raven
So like Maple is here to destroy the page font and tell y'all that Cheetah is awesome incredibly funny, smart, kind, and did I mention awesome ? Honestly I can't count the number of times that Cheeto has helped me out when I'm having a tough moment and I definitely can't count the number of jokes we have shared over our time as friends. Cheetah is the speediest of the speedy mods, and we all know that, even though some may try and deny the obvious truth. Now how am I meant to get this font ? I'm meant to be decent at coding for goodness sake. Anyway yeah Cheetah's awesome and sorry for breaking your page cheetah :P
- Mapleeeeeeee
Hi. Just wanna say that Cheetah is very very nice, super fun to talk to, a great moddo, a SPEEDY moddo, and literally AWESOOOOOOOME!
- Turtlepaw/dapple
Cheeto is is the cheesiest cheeto in the entire cheeto universe and awesome and anyway sorry for ruining your page with this terrible random bit of text -Moons trying to compliment but failing
Cheetah is awesome and amazing and a great mod!!!
- Dovepawwww
Cheetah is so chaotic and nice and fun and silly and caring and awesome and deserves the biggest bag of cheetos the world has to offer
- Willowpaw (Wolli)
Every ounce of Cheet's wonderful personality, it oozes into every word she says, and I just LOOOVE that about her. She is an AMAZING person to talk to, and of course, she is quite the mod. Over all she is a fantabolous cheetoh of a person!
- Lone
The Cheeto valiantly outruns the apprentice army. SHE IS AMAZINGGGG and FRIENDLY and very funny :3 Cheetah is wonderful speedy moddo and will surprise you with shoving her fabulous modding skills in your face by popping up comments everywhere
- Slatepaw
I am here to also ruin this page. Anyway, CHEETAH IS AMAZING, KIND, AND HAS A GREAT SENSE OF HUMOR!!
- Frostcrystal
Cheetah is such an awesome, speedy, funny moderator. She always makes me feel better with her hilarious comments and capital letters and tongue-out emojis. :) The Blog is just automatically better with this speedy, silly moderator around.
- Coldie
CHEETAH IS AWESOME AND AMAZING AND ONE OF THE KINDEST PEOPLE I KNOW SHES SUPER SUPPORTIVE ILY CHEETO <3
- Dovey :>
WE LOVE YOU CHEETAH!!! You are so awesome and kind and amazing and hilarious and I am SUPER lucky to even meet someone like you!!!!! Stay awesome, amazing and astoundingly astonishing!!
C-Cheerful
H-Hilarious
E-Exciting
E-Extraordinary!
T-Tremendously terrific!
O-Outstanding, obviously
Hehe!
- Smokeypaw! (The Smoke That Fills The Air)
Cheetah, you're AWESOME!
- Briarpaw
Cheetah you're amazing!!!
- Reedpaw
Cheetah is super welcoming and funny! ily, Cheetah!!
- Amberpaw
Me: "But I don't want to ruin your page!" *Looks like a five year old* (Well sorry I just ruined it by being a total weirdo :P )
- Hollypaw(fern)
Cheeto is one of the speediest moddos there ever will be
-Daydream
Although i've never met you, I think you seem cool B)
-(Sune) Rainystomp
Um Cheetah doesn't like sushi and this is a crime goodbye. —JuJu
Cheetah is the coolest helloooooo Cheeto -Bri
Cheeto is speedy moddo and is a very Cheeto-y cheet! Thank you for being a wonderful mentor to MY wonderful mentor Rosesonggggg.
- Your grandapprentice Bloss (Blossompaw/rose)
"Cheeto is a speedy speedy moddo and a very good cheeto poof"-Snowwy
CGHBUIYNGVUYFGUH I once "accidentally" said that I like the crunching of cheetahs o-o. Cheet is really awesome tho and has a weirdly long vandalism section. -Dazzlepaw/Daze/:p
Ok time to type a paragraph... *inhales*; Cheetah is amazing! She's really productive and sweet and always there for me and others when we need a hand or a shoulder to cry on! She manages the mentor/apprentice list REALLY well and I love it when we go on vc and chat about who knows what!! She's gifted, talented, sweet, caring, ect ect. Love u Chip palllll <3 - Doverito
Cheeto is the cheetoest cheetah that ever cheated. In other words Cheeto is really nice and chill (unless her and emby are in a room together)and is a great person to talk to!-Whirl
Cheeto makes up most of the blog's good weirdness, speediness, sarcasticness, and cheeto-yness <3 I don't know what the blog would be like without her and I don't wanna think about it... it gives me the shivers
-Gracey (Gracepaw/splash)
CHEETO IS ABSOLUTELY AMAZING! She's always super welcoming and supportive and helped me get started when I joined the Blog! She's very smart and a GREAT WRITER despite what she says. She's super fun and funny and weird (in a fabulously amazing way), and those things combined can be described with no other word than Cheeto >:3
~Freepaw
Cheet has fabulous social skills and is not scared to be the first to dm in a group chat! She is super funny and friendly, and obviously everyone on the blog loves her including myself <3 she is my favorite kind of cheeto puffs
~ Stormi
Cheetah can into speedy moddo! She's da best :D!
- Your Polandball friend, Flamepaw ;)
IM DRIVING DOWN THE STREET WITH MY FOUR FEET THAT AREN'T WHEELS OR FEET BUT PAAAWWWSSS, MY PINK NOSE IS DRY I NEED SOME WATER TONIGHT OR RN BECAUSE IT MEANS IM DEHYDRATED choir: (yeeaaahh) anyway im bored so im just gonna do this random thing and also I hate mustard and ketchup ew ._. also Cheetah is the speediest mod that you would go to for all of your cheeto needs; she got hot cheetos, cheetos, cheeto puffs, cheeto fries, cheeto poppables... you know, all the good stuffs
~Daze :p
Speedy Cheeto is absolutely great mod mod and an even more amazing cat/person and JK,IHUTFGRDGH CHEETO YOU DESERVE LIKE 234567898765436755 COOKIES OR 3457628648562652834765 COOKIES EITHER ONE cuz you're amazing and you're awesome and you're awesome with sauce and you're the best
-Lilypaw/fox (Foxi) <3
Cheetah is funny, friendly, cool, positive, smart, and of course, really speedy! <3 - Mounty
(aww thanks guys <3 )
Trivia
Cheetahspark's birthday is January 21
Her hobbies include reading, writing, horseback riding, water sports, drawing, singing, swimming, baking, and acting (yet she very rarely actually does most of these things)
She's a part of a ton of fandoms... don't be shy to ask her about them ;)
She has an unhealthy hot cheeto obsession
She was BlogClanner in the Spotlight in August 2018
Cheetahspark was a member of the BlogClan Newsletter staff
There used to be a shipping section on this page but Cheetah deleted it because she has literally been shipped with every BlogClanner so she figured it was pointless
There also used to be a Warriors-related section but Cheetah hasn't read Warriors in... quite a while
BlogClan Friends
Add yourself and your page's link if you want! Don't be shy--everyone's my friend :D
Mothsy (Mothpaw)
Koisplash (Wild)
horsegal2 (duskpaw)
Gross little spider (Embypaw/fox)
Reedpaw (Wish)
Libby (Libbypaw/tail)
Silv (Silverpaw/leaf)
Star (Starpaw/blossom)
Fawny(Fawnpaw/leg)
Moon (Moonpaw/breeze)
Loudy (Loudfern)
Fallen (Fallenshadows)
Riv (Riverpaw/frost)
Flamey (Flamepaw/flower)
Leapy (Firepaw/leap)
Oakie (Oakwhisker)
Mojoflight (Formerly known by lots of names & Cheetahspark's old Mentor)
Maple (Mapledrift)
Honey Nut Leafios (Leaf Lost in Blizzard)
Tacofiah (Ebonypaw/rain)
Spod (Spidersong)
Calmpaw (Calmlake)
Jinx (Lilypaw/whisper)
Aster (Asterpaw/flame)
Monika (Mistlepaw)
Rose (Rosepaw/song)
Wistep (Willowpaw/step)
Snowy (Snowystorm)
Stormberry
Frosto (Frostpaw/fire)
Crater (Craterpaw/lash)
Jazzy  (Jasminepaw/breeze)
Bramb (Bramblefire)
Snowy (Snowbreeze)
Spotty (Spottedspirit)
Brightfrost
Rain (Willowpaw/rain)
Bracken (Brackenpaw/light)
Pasty (Pastelpaw/blossom)
Crystie (Crystalpaw/shine)
Bluebell (Bluebellpaw)
Flighty (Cheetahpaw/flight)
Sandy (Sandpaw/frost)
Shadow (Shadowpaw/moon)
Lappy (Lapispaw/dapple)
Rush (Rushfire)
Li-Li (Lifepaw/light)
Wint (Winterwhisper)
Moons (Moonspirit)
Clo (Shadowpaw/cloud)
Pine (Pineblossom)
Appy (Appleflower)
Turtlepaw/dapple
Loneheart
Crookedmoon
Lil (Snowpaw)
Slatepaw! :D
Coldie (Coldheart)
Frostcrystal will forever be your friend
Darkie (Darkwing)
Doveroni (Dovestream who ate ur cheeto flavored confetti)
Smokeyy (Smoke That Fills The Cheeto Scented Air)
Everpaw(stream)
Nightpaw/wish
Nilla! (Vanillapaw/spark)
Amberpaw/splash
Free (Freepaw)
Frogpaw/storm :D
hollyfrost loves mha (holly) :D
Dazzlepaw/Daze :3
Bloss (Blossompaw/rose)
Gracey (Gracepaw/splash)
CHEERY! (Cheetahheart)
eggsnek the snek that eats eggs :D
Frosti <3 (Frostpaw/shine)
Snowwy(Snowpaw/storm who is too lazy to link her name)
Foxiiiii!!!! (Lilypaw/fox)
Mount! :) (Mountainpaw)
Keeko (Thriftheart)
Ivypaw/shadow!!! (Why do I always forget I'm an apprentice??)
Icepaw/storm (Icee)
Wildpaw/frost
Rabbi who doesn't know if she's already added herself:P
MabelBarley (Hazelpaw)
Quotes
Add a quote if you want! I honestly don't know what these are. I think they're better without context.
Cheetah is the most awesomest person ever, i HAVE to use incorrect grammar to say that. Plus, GO CHEETOS
-Cheetahheart
"I always knew cows would be my undoing, but who would have guessed that Cheetah would play a part in it" - Sunny
"morning
nvm night"- Goldi
"i would draw you something, but i can only draw gross squiggly lines" - Cheetah
"chuck the muffins at unsuspecting apprentices, yes" - Cheetah
"gah" - Cheetah
"I THIRDENT THAT" - Flame
"YOU WANT LINES 
YOU 
WANT 
SOME
LINES 
????? 
HERE HAVE SOME LINES" - Jazzy
"King Goose is unsure of who he's married to, both Rainy and Breezey apparently said vows, Cheeto proposed to me at someone else's wedding, and I'm apparently bisexual on the internet" - Beechy
"Whats going on, Spidey and Cheetah have turned into potatoes" - Owly
"Ah yes, Spottedleaf, the tortoisesh*ck medicine cat of ThunderClan, loved by all, descendent of Spottedpelt, another well-loved tortoisesh*ck." - Rainie
"You really should kill people's eyes more often, it's actually really good fun" - Maple
"MY LEG ISN'T HOLLOW" - Cheetah
"I ae tea" - Cheetah
"two squiggles on both sidesssss" - Cheetah
"insert kool-aid man voice OH YEAH" - Cheetah
"'Wow!' Random Character exclaimed. They looked around in wonder. "This place is so cool. I want to stay here forever!' They walked around aimlessly for about two seconds, and then proceeded to fall into a twenty-foot-deep hole. Head first. Goodbye, cruel world... And that was the end of Random Character." - Cheetah
"THEN RANDOM CHARACTER KILLS EVERYONE AS A GHOST!" - Turtlepaw/dapple
"yes yes you know things were very different back then with all the dinosaurs and all" - Cheetah
"the muffins are marching row by row, hurrah, hurrah
the muffins are marching row by row, hurrah, hurrah
the muffins are marching row by row
the little one stops to eat a toe
and they all go marching on... " - Slatepaw's army of muffins, marching into the cave to battle with the army of apprentices :3
"Ah yes I have been afk we go to the river to fry our enchiladas" - Daykit\dream
"What if we were all mods and we just didn't know it", "Think about it, it's super deep" - Cheetah
"Cheetaaaaaah! rocking to the beat'a, crashed into a steam roller~ now Cheetah is valveeta!" - your favorite apprentice that you don't know a lot Stormi
"Can I at least have some chocolate cake?" - Cheetah
"at least someone cares about my poor stomach" - Cheetah
"mmmm yummy pfp" ~Cheetah
'the floor here is made of carpet"-Snowpaw/storm
"You see I'd be eating him anyway so it doesn't really matter" - Cheetah when asked about if a life-sized statue of chocolate guy would melt in the sun (Just a jewel out of the amazing jewels that are Cheetah conversations)
"pleaseeeeeeeeeee" *big eyes* - Mossi asking people to put their art of her on her page
"7 PEOPLE GO VOUCH FOR BLUE OR ELSE I WILL HUNT YOU DOWN AND FEED YOU TO SHARKS" - Cheetah telling people to vouch for Blueheart
What a nice way to die; being another animals dinner! (Or lunch or breakfast) - MabelBarley (Hazelpaw)
Fanfics/Blogfics
(ok all the ones i wrote are amazing and everyone should read them. they're here) Don't fret! Dawny has fixed your (insults to your work) typos!
Magic From Afar (collab)
Guardians of the Multiverse (collab)
Featured in Beneath the Trees
Featured in Animal Survival
Featured in The Coffee Throne I and II
Featured in Dawn of Fire
Featured in Serene
Purrsona
Cheetahspark is a small, sleek, short-furred tan she-cat with black stripes on her legs, tail, and face, and black-and-brown leopard spots on her fur. She has a pale chest, a pale, slightly spotted belly, a slightly lighter muzzle, and emerald-green eyes. Her breed is a bengal cat. Remember while drawing her that her design is completely flexible, and artistic creativity and liberties are encouraged!
Gallery
--------------------------------------------------------------------------------------------------------------
 CREDITS TO JUNI AND SPIDEY FOR CODING!