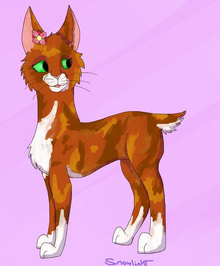 Brightberry is a cinnamon tortoiseshell she-cat with a white muzzle, white paws, a white chest, a stumpy tail, and green eyes.
Personality
Brightberry is kind-hearted but can be overly emotional at times. She is also very anxious and is easily distracted. She has a tendency to be very obsessive about things she likes.
Trivia:
-Her favorite characters in Warriors are Spottedleaf and Brightheart. She has a tendency to be very protective of Spottedleaf especially.
-She's very disturbed by the Evil!Spottedleaf AU, so try not to mention it around her unless you're offering her comfort.
-She is obsessed with Bellatrix Lestrange from Harry Potter, Azula from Avatar, and Caitlin Snow from The Flash..
-She is featured in the Blogfics Trapped, Once Upon a Blog, and Chance, among others.
-Her Hogwarts house is Slytherin.
-If she was in the Avatar universe, she would be a firebender.
-She loves it when people draw her fursona, but she usually misses the openings for fursona requests, so feel free to draw her fursona!
-She is the author of the upcoming blogfic, "Reborn"- a Once Upon a Time-style crossover between a bunch of different fandoms!
-She's contemplated changing her name to Brightfrost, in honor of Killer Frost from the Flash.
Friends:
Blueheart
Lionfire
Wavesplash
Birchfoot
Maplepaw(drift)
Cheetahspark
Butterflyflower
Moonbreeze
Foxtail
Pastelblossom
Quotes:
"Spottedleaf is bae"- Brightberry.