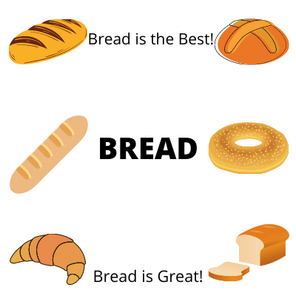 NOTE: IF YOU HAVE FOUND A PURRSONA SUBMISSION ON EITHER THE FAN FIC ORGANIZATION PAGES OR THE ROTATION, ADD IT IN THE CORRESPONDING SECTION EVEN IF YOU ARE NOT THE AUTHOR OF THAT ENTRY.
Add yourself in the section, with your Blog name in italics and parentheses, if you are a part of the almighty BreadClan. If you are an apprentice or kit, make sure to add a slash and your suffix, like "Prefixpaw/suffix" or "Prefixkit/suffix."
Also include a short dash line and add your purrsona.
Leader: Baguettestar (Viperfrost)
Deputy: Noodlefur (Meadowpaw) - Long, creamy, slightly curly fur and is a child
Medicine cat(s):
Yummywheat (Tinypaw) - Tan tabby with darker stripes and green eyes
Medicine cat apprentice: Muffinpaw/light (Cinderpaw/pool) - Sleek-furred golden she-cat with light brown patches and leaf-green eyes
Warriors:
Sourdoughflight (Eagleflight/paw) - dusty grey, yellow cat with warm brown eyes and a sleek cream tail
Biscuitstream (Dovepaw/stream) - Light gray cat with sand colored markings on xer paws and chest with yellow eyes
Silverfeather (Silverfeather/Silvy) - A light gray she-cat with darker stripes and blue eyes
Grainflame (Frostcrystal) - Brown and white tabby she cat with amber eyes
Creambunfall (Leafykit/shadow) - Dark cream she-cat with darker stripes, ear tips, tail tip, and light hazel eyes
Breadstickheart (Falconstorm) - Sandy brown she-cat with amber eyes
Garlicbreadnose (Minktail) - Golden-brown she-cat with darker and black flecks and green eyes
APPRENTICE, CROISSANTPAW
Honeysauce (Flowermistle/Florie) - honey-colored she-cat with green eyes
Bagelfrost (Sandpaw/frost) - pale caramel-brown she-cat with yellow eyes
Bananabreaddawn (Coldheart) - Sleek light-brown she-cat with a lighter yellow chest and tail tip, almond-brown eyes, and yellow ear-tips, patches, toes, and an unusually yellow nose.
Apprentices:
Croissantpaw/wind (Slatepaw) - Sleek gray she-cat with green eyes, brown tail stripes, and a light brown paw on her left back foot
Focacciapaw/tail (Rainypaw) - Fluffy black she-cat with a gray tabby tail and paws
Ryepaw/ripple (Lillypaw) - Pale brown tom with hazel eyes and a white tipped tail
Sproutpaw/heart (Sparksage) - black tabby she-cat with dark brown eyes
Pitapaw/moon (Duskblaze) - A pale yellow she-cat with darker yellow and white spots, and blue eyes
Briochepaw/sun (Rainpaw/dance) - Floofy, light gold she-cat with silver streaked gold eyes.
Queens:
Kits:
Bananakit/bread (Strawberrykit) - Brown she-cat with small yellow patches scattered all over her fur. Eyes are a dark green
Challahkit/spring (Maplekit) - Golden brown she-cat with a cream stomach and bright green eyes
Elders:
BreadClan originated on the page titled The Rotation, by a comment made by Viperfrost, or Baguettestar: "I'm 5% bread" in an effort to make a new page for a new game round.
BlogClanners who played The Rotation commented on that, comparing their bread percentages, and soon after, the page had hundreds of mentions of the word "bread." Multiple editions of a Bread Banner were made, and BreadClan was officially established. Coldheart started the Bread Banner thing, after seeing a bunch of bread comments, saying "The Bread Banner. We should make one."
Meadowpaw/Dawny started a fan fiction of BreadClan, and players of The Rotation who knew about it all submitted their purrsonas.
In The Fan Fiction... Other Clans!

[

edit

|

edit source

]
Leader: Watermelonstar (Coldheart) - Beautiful small pink-grey she-cat with green-grey paws, tail and ear tips, small black spots, and bright green eyes.
Deputy:
Medicine cat: Bubblesong (Florie/Flowermistle) - Lithe, sleek gray she-cat with dark blue eyes that sparkles like stars
Warriors:
Apprentices:
Berrypaw/river (Tigerpaw/shine) - Small, short and sleek-furred, lithe blue she-cat with flashing leaf-green eyes and white paws and tail-tip.
Strawberrypaw/tail (Hollypaw/fern) - She-cat with strawberry blonde fur, green eyes, and white patches
Queens:
Kits:
Mangokit/grape (Springtail) - Yellow-orange she-cat with white right foreleg
Elders:
Leader:
Deputy:
Medicine cat:
Warriors:
Quarkdust (Rufflecloud) - Long-furred off-white-coloured she-cat with brown tabby patches and blue eyes.
Goatpatch (Coldheart) - Sleek white she-cat with big brown patches, a white tail, brown eyes, white ears, white underbelly, and a pink nose spotted with black.
Apprentices:
Queens:
Kits:
Elders:
Leader: Cakestar (Kate Cary) - Probably something cake-like
Deputy: Speedflash (Coldheart) - Pretty black tabby she-cat with golden leopard spots and golden stripes and unusual purple eyes
Medicine cat: Iceflower (Icy/Iceflower) - too lazy to check
Warriors: Cheethspark (Cheeto/Cheetahspark) - too lazy to check
Apprentices:
Meadowpaw (Meadowpaw) - dark grey she-cat with light grey flecks, dark striped leg, and black-tipped ears
Queens:
Kits:
Elders:
Leader: Rabbitstar (Coldheart) - Pretty pure-white she-cat with long ears, long white whiskers, a very skinny bobbed tail, and amber eyes.
Deputy: Muttonclaw (Smokeypaw) - Small and muscular dark tabby she-cat with grey eyes, stub tail.
Medicine cat:
Warriors:
Apprentices:
Queens:
Kits:
Elders:
Raven (Raventhorn) - fluffy black she-cat with tufted ears, bright green eyes, and sleek black raven wings.
--- STILL UNFINISHED, FEEL FREE TO CONTRIBUTE ---
~Coding by Coldie!~
~
Community content is available under
CC-BY-SA
unless otherwise noted.